DON SAYS...


April 21


Marine Le Pen Should Make Up With Her Father to Get the French Patriarchal Racist Vote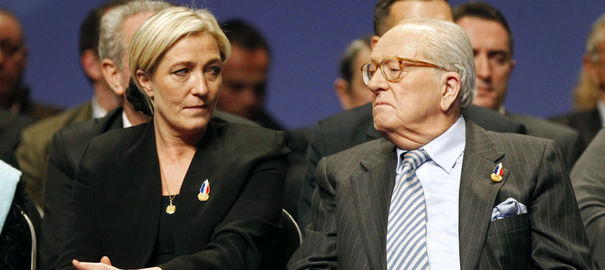 Supposedly, the White Nationalist Marine Le Pen (estranged daughter of National Front founder Jean-Marie Le Pen) looks like she will make the French presidential runoff. She will get a lot more Frenchmen's votes if she makes up with her father whom she kicked out of the National Front over Jew policies (hugging them hard is still the best policy, see editorial at natparty.com).
No man respects a disobedient daughter. This family re-approachment would definitely increase her chances of becoming president of France in the next runoff, that nationalist politicians fail, due to globalist Jewsmedia "extremist" smears, as if their crazy idea of a one-world-order is possible when all Nature is against it. I recommend that White Nationalists encourage Marine Le Pen to show her gentle, female side and make amends with her father. It can only improve her standing with patriarchal white racists, since the matriarchal Jews won't vote for her anyways.
Tell her. We Will.
National Front contact page:

http://www.frontnational.com/






April 17:

If North Korea Takes South Korea. Whites Could Get Their Jobs Back

Crafty "madman-motivated", obedient North Korea could conquer South Korea in a flash, even with a limited US military there. South Koreans are too hedonistically Westernized . Plus, there are a lot of commies there. This would bring on a war with the United States, who would be looking for war partners right away citing NATO commitments. A new invasion of the peninsula would have to ensue from the Koreans' old brutal enemies, the Japanese (the pirates and runaways of the continent, similar to the Whites of Britain). Having lots of South Korean military loot and on a roll, naturally the newly- united Koreans would have to attack already radioactive Japan (Fukushima) and its factory islands. This in turn would knock them out of industrial manufacturing for the world and contend with revenge-seeking rough country Orientals. The new Japan will be occupied because the new unisex "Me generation" won't resist like the Emperor's suicidal soldiers of World War II did. The Russian oligarch Jews will stay out and reap war profits.
Next comes China, if they're wise; they'll stay out of the whole mess, only secretly helping their victorious red North Korean pals and relishing mediating their exit against their old mean enemies, if Americans don't insist on a nuclear war. If that's the case, the Chinese will give them an ultimatum, which they'll grudgingly accept with anti-trade sanctions and more white isolationism from globalists' adventurism that is destroying our society and race. Three important Asian countries will be out of our economy. To paraphrase Kenny Rogers, we don't need that crazy Asian war.




April 14

More Foreign Wars Will Wreck The White Race

Donald Trump dropping that near-nuclear bomb on anti-globalist religious primitives in Afghanistan, wrecking the planet, killing and maiming anyone around, (you'd go deaf a mile or so away), is globalist American imperialism's latest outrage, and the US globalist mercenary military must be reined in, or their irresponsible, insidious aggression will ruin us all in a new Third World War (wasn't he supposed to rebuild America?)
I'm no pacifist, but this way of fighting is unmanly. No wonder they hate us. Now, let's see if the commie feminist "humanitarians" condemn this cowardly war crime against patriarchal primitives opposed to their degenerate lifestyle. We're waiting....
Smart White Nationalists and racists know that our dwindling species is a homeland problem -- only exacerbating foreign wars and globalism. Aside from stereotype neo-Nazi government agents, all white racists are opposed to any further Orwellian wars on terror. They're bound to fail.
Tell Donald Trump and "sunny ways" globalists'/feminists' women-voted Prime Minister of Canada Justin Trudeau to lay off the fundamentalist Muslims. No one ever wants a war against God-believers, even if they "lose", they will become stronger in any Semitic religion believed by men.
Contact them here:
Justin Trudeau's e-mail: pm@pm.gc.ca

Donald Trump's Contact Page
https://www.whitehouse.gov/contact

April 11
The "Alt-Right" is Legitimatizing White Self-Loathers

There's no such thing as a right-wing or a left-wing person... it's a creation of the Orwellian globalists' media to divide the white people. A white man equating himself with a white self-loather is like equalizing a sane person with a nut case,
This right wing/left-wing/archaic term is from the Reign of Terror in the merchants' French Revolution designations for a New World Order. These terms have no meaning for serious white racists and only leads to equating natural white patriots with unnatural commie-feminist globalist.
Inform and/or condemn those using these communist terms whoever they are or wherever they are. White racists are here to correct the mistakes of the past, not repeat them.


April 9:

Karma Follows White Race Traitors
You can't protect a criminal and expect to get away with it. That's what Grant Bristow, one-time Canadian Security Intelligence Service (CSIS) agent is facing. He's the guy who founded the neo-criminal association erroneously named The Heritage Front (which only wanted "Equal Rights for Whites", buying into the multiculturalism line), not a white-privilege society) by his CSIS handlers, under the leadership of the cocaine-dealing criminal Wolfgang Droege while Toronto cops looked the other way during the federal spies' Operation Governor to destroy The Nationalist Party and its leadership (Droege was an agent from the start, boasting how the FBI asked for him to spy on foreign groups).
As you see, I'm still here with our White Nationalist ideology, while karma has the traitor Bristow in hiding, in unnecessary fear and foreboding as he watches the rise of white identity politics with the election of Donald Trump and his "Make America Great Again" supporters.
I feel sorry for throat-cancer-ridden Grant, and wish to remind him that Race Is All, before he goes back to his rock and roll nostalgia. Cheaters never prosper and sorry for your sad life, but that's the wages of a traitor: Karma catches up.

Read the Toronto Star related article here:

https://www.thestar.com/news/gta/2017/04/09/decades-later-csiss-white-supremacy-infiltrator-tells-his-story.html



US's Ineffective Symbolic Air Strike on Syrian Globalists' Regime Little to Smile About
When you tell the Russians that their puppets in Syria are going to be attacked at an airbase responsible for a Sarin poison gas attack on rebels and civilians, you can expect little damage and few casualties on the enemy. Sure enough, only 23 missiles landed on the airbase out of 59 fired with seven dead, including two civilians and planes. Most of the infrastructure of the Syrian airbase was intact, while their jets sat under, untouched bomb shelters. It's all a big show that Trump had to do when the world saw the little children's bodies limp and dead and chocking from the commie regime's gas attack.
We are against any involvement in the Middle East by the West but certainly enjoyed the little payback that the phony Russian oligarch Jew regime liars can whine about. Next time, don't tell the Russians, President Trump -- then you can show that you run your administration (didn't you cry about how Obama always announced his war intentions and red lines?). But now, let's get US troops out of the Middle East and fix broken America.
Tell President Trump:
https://www.whitehouse.gov/contact




Fake News CNN Pushing "Nuclear Option" Acceptance --
Tell Them NO!
Fake Newsmedia's CNN are using a very dangerous term describe the efforts of the asnti-Trump/anti-white Democrats in the US Senate to filibuster the appointment of Trump Supreme Court choice Neil Gorsuch. They're calling it the "nuclear option" and repeating it over and over in their contrived pundit debates, without any explanations of what the "nuclear option" really means.
Everyone knows using the "nuclear option" means using nuclear weapons to launch on a foreign country. However, to use that phrase to describe what US Senators are going to do to a Trump Supreme Court candidate is conspiratorally dangerous. They're getting the public used to the idea of using the "nuclear option" by belittling it to the inactions of the American Senate over some hope for an appointee -- not unlike all Walking Dead/vampire shows and movies, it is meant to desensitize the public to accept a violent unnatural racemixed, multicult criminal society. Using the term "nuclear option" should mean exactly what it says; trivializing it only makes it more acceptable...and that's not what white racists want. Tell CNN (and Donald Trump, too, as CNN is no friend of his) to stop this fake news Orwellian propaganda on a serious subject like nuclear war. We will.
Syrian Dictator Assad: Globalists' Pal, Confirmed
The globalist American politicians got rid of Noriega, Milosevic, Kadaffi and Saddam Hussein, just like that. They have been dragging their feet for years playing footsie with the Alawite Freemason-like cult's brutal dictator Assad of Syria.
Now it's been declared that they no longer wish to see their internationalist commie pal removed. I know it would never happen, even though some fools were all so worried that KGB Putin pal Assad would be removed by getting on the globalists' bandwagon to kill his Islamist enemies. They should have known better. I'm suprised that David Duke fell for that ill logic and joined with Pentagon newsboy Andrew Anglin to fight the Hadjis -- a typical mercenary grunt, following feminists' orders against patriarchal primitives. Are these guys really against feminists? And when will they state that they are against anti-white deadly 'diversity' which Duke promotes on his site's masthead? There's no way to explain that: it only results in more confusion and divisiveness among white nationalists.
So, stop crying for your oligarchs' put-in Putin and his dirty invasion of Syria and that giraffe communist Assad and his globalist regime. They're safe from the two Jew-run nations of America and Russia. Wake up and smell the roses. The regimes are not the friends of white racists, which Trump inherited from his voters. Tell Trump to stop the counter-productive wars on Jihadists for globalists' interests. We will.
Keep the Pressure On Fake News Media
The fake news media is making a crisis after crisis self-absorbed non-news coverage. Their arrogant pundits and reporters couldn't care less about all kinds of real news protests and criminal activities going on around the world in their own white nations--Globalists Jewsmedia politically-correct "activities" and "stories" they have basically created like their "Russiagate" lies to keep the arms race militarists and globalists rich. And they also heap criticism on Trump (the choice that these dilettantes hate with a self-loathing unnatural passion.
We at the NPC are trying to bring to you all the relevant news to whites, away from all the 'fake news' concerns the media race traitors put out, pushing their multicult one-world order tyranny they try to impose on us. White Nationalists have the media traitors al a-flutter as they try to pin their racemixing fake news agenda on their enemies...us. The best bet for white racists to keep the pressure on these evil paid bastards whenever they peddle their anti-white lies and hide the racial truths from the public.
We will.
* * * * * * *